Back to main menu
Feedback

How to research for the best flights

Below are items you need to research about your flight before planning your vacation. 

Privacy Control
Use a private or incognito window or private browsing mode when booking flights and hotels online. Travel sites often track your visits and will raise the price simply because you've visited before.

In Google Chrome or Safari, incognito is enabled by hitting Command (or "Control" if using PC), Shift, "N". For Mozilla Firefox or Internet Explorer, hit Command (or "Control" if using a PC), Shift, "P". This will open a new browser window where your information is not tracked, thus not inflating prices as you search. Note: if you're using an older version of OS X, open Safari then click "Safari" in the menu bar, and select "Private Browsing".Your cookies are reset each time you re-open an incognito window. So if you want to start with a clean slate for each flight search (so your previous searches aren't "remembered", potentially inflating costs), close all your incognito windows, open a new one, and then perform your flight search.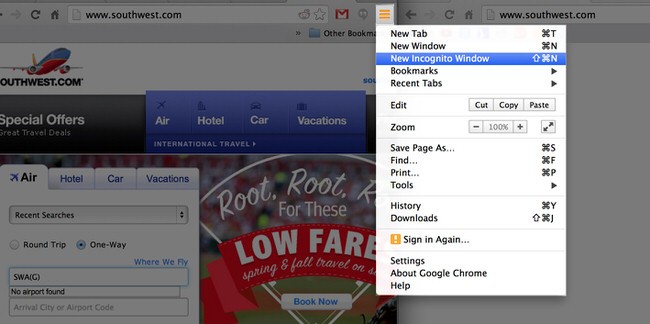 ---
Booking Times

Best time to book :
Research your flight between starting 3pm on Tuesday to Thursday.  Most people are usually working on these days and normally don't book their vacations during this time. --  Travel companies know that. Also, this is when the big Airlines reduce their fares in order to compete with the discount airlines like Southwest and JetBlue.


Best date to book :
54 days before takeoff is the cheapest rate. Book between 29 to 104 days before your trip.

| | |
| --- | --- |
| Eurpe: 151 days before your flight | Mexico: 89 days before your flight |
| Asia: 129 days before your flight | Latin America: 80 days before your flight |
| The Caribbean: 101 days before your flight | |






Worst time to book :
Tickets are most expensive the day before the flight ... all the way to 13 days before the flight. You should NEVER book your ticket within two weeks of a flight… a mistake that 36 percent of customers do. If you're going to a popular destination-- ie New York or LA-- you should book well before 100 days. Airlines have no incentive to lower ticket prices as time goes on. The same principle holds true for flights to hard-to-reach airports in small cities: there's little airline competition here, so ticket prices don't drop nearly as much over their lifespan.

Check prices for various dates
View the flight prices for a whole month to see what days are cheapest for your specific route.
1. Go to SkyScanner
2. Enter your departure & arrival cities
3. Select "one-way" (even if flying round trip – you're just determining the cheapest days to fly out first)
4. Click "Depart" but instead of entering a date, select "Whole Month" so you can see which date is cheapest

Google Flights and Hopper also offer price analysis and track when and where is cheapest to fly.

---

Booking Website
---

Booking Flights

Go onto Orbitz and Expedia and search for your flight
Enter your vacation destination and dates.
Select "non-stop" flights only.
If non-stop is not available, select the least amount of stops.
Sort by the "Fastest flight duration".This will give you an idea of the quickest possible time to get there.
Now sort the list by "Lowest price"  Go down the list to see the quickest and cheapest way to get there.
Once you determine the flight you want, record the airline name and flight number.
Go directly onto the airline site and search for the exact same flight. Sometimes you end up saving money be cutting out the middle man (Orbitz and Expedia).

Transfers
If you're flying somewhere that involves a transfer, consider booking these two legs separately by adding another destination to your trip.
Make sure you book the flights at least 3 hour apart. You first flight might get delayed, thus causing you to miss your transfer flight. You also want to allow at least 45 minutes for the crew to transfer your luggage to the second flight.
Find a layover that you would like to visit and stay there for a couple of days.
Show a travel agent a cheaper price online. They may match it, plus include a few days' stopover in a desired spot if that is what you're seeking.

Best Flight for your Budget
Go to Kayak Explore. Enter your departure city and travel month. The prices of various flights appear over hundreds of cities on a map, allowing you to see the most cost-effective place you can fly.Find the flight with the most distance for the lowest cost.

Mileage Points
For Canadians using Air Miles, the best bang for your buck is to use your points for in-country travel, as this uses the least amount of points for the distance, though if you are swimming in points (company credit cards can be a goldmine for this), this is a good way to save serious bucks.
Pay in foreign currency
Before booking a flight, consider if the rate is cheaper if paid in another currency. Often budget airlines will make you pay in the currency of the country you're departing from, but this isn't always the case.Make sure you're using a credit card that is free of foreign-transaction fees.

Local Airlines
If you're flying somewhere obscure, Google search and ask around if there exists a local airline.

Baby Basinettes
If you are flying with a child 2 years or younger, it's absolutely free. Some airplane models are equipped with basinettes and baby food. All these services are free of charge, all you have to do is ask. Please note that during turbulence, you will need to hold your child.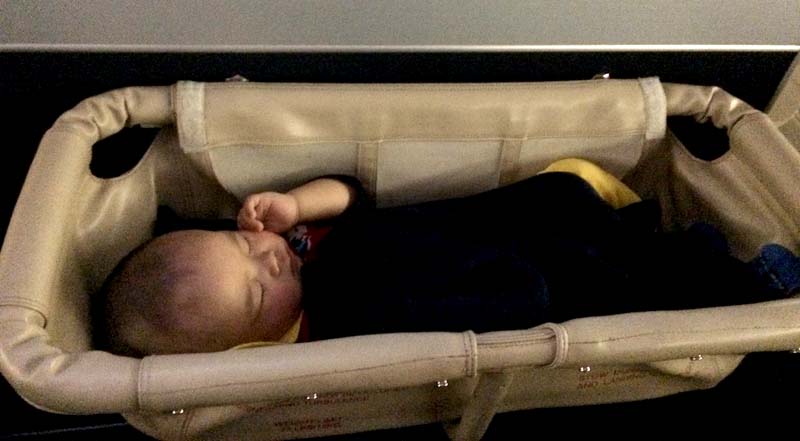 Budget Airlines
1) Check where the
airport location
is (some budget airlines fly to airports further out of  town).
2) Ensure you've
booked & paid for your luggage allowance.
 Adhere to restrictions on weight, height, and # of bags allowed. Some airlines (e.g. Ryanair) will charge
hefty fee
if you're over.
3) Read the fine print. The best example is that Ryanair WILL CHARGE A FEE if you do not
print your own ticket or adhere to their strict luggage weight and dimensions. 
| | |
| --- | --- |
| Canada | United States |
| Australia | New Zealand |
| Asia | Europe |
---
Selecting Seats
Select seats that are located in the Exit aisles. Note that some airlines charge extra just to be in the exit aisles.
Sit in the seats near the wing of the plane for the least turbulence because it has more structural support.
Make sure they provide you with a seat number. If not, contact the airline and ask them to guarantee you a seat. A lot of the time airlines over book a flight hoping that some passengers may not show up.
When reserving airline seats for 2 people, get the aisle and window. If no one takes the middle seat you get a full row, and if someone does, just ask to switch so you can sit next to your travel partner.

---

Airport

Luggage Fees - If you are checking in a luggage, you the rest of your foreign currency to pay for your luggage fees and then pay the rest by credit card. This way you avoid bringing back foregin currency you most likely will never use.

Luggage Weight - Most airport allows only 7lbs for check-in bags. Find a scale and weigh it beforehand. Wear all your heavy jackets. Once they check the weight and tag the luggage as approved, you can take off the jackets and place it back into the luggage.

Security Checks - During security checks, place your computer and the zip lock bag full of liquid onto the tray. Take your wallet, phone, keys, wedding ring, shoes, and flight ticket place it inside the your shoe.

Strollers - Some airports provide free strollers within the terminals.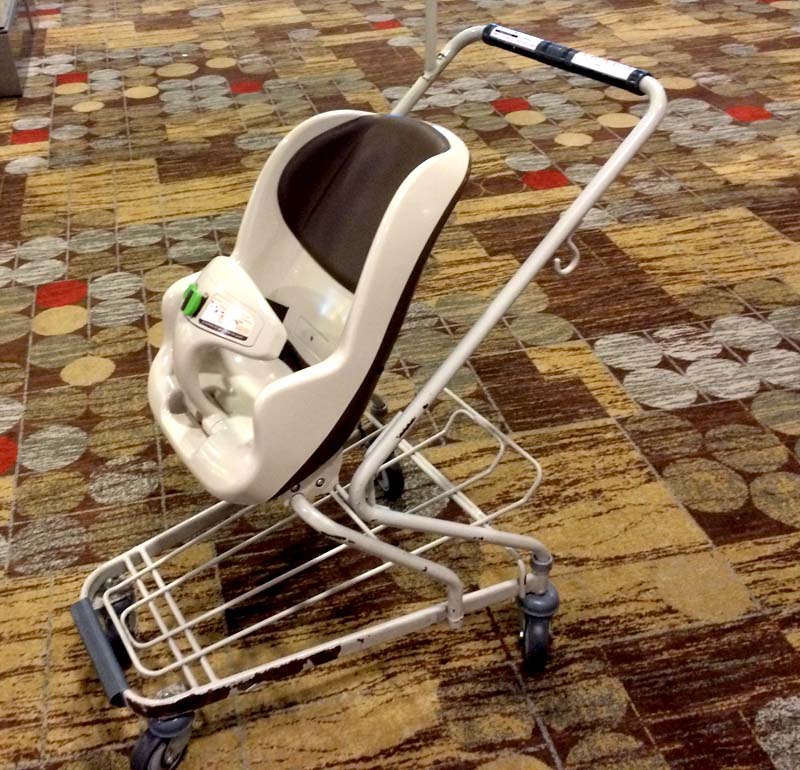 Meals - Purchase some snacks and pasteries if your flight does not include meals. For a full meal, pack a large cup of noodle. Just ask for hot water and voila, instant filling meal that is guaranteed to taste good.

Water - Bring a filter water bottle and fill it up after the security checkpoint. Pack some tangerines so that you have some flavored fluids during your flight.

Terminal Bathrooms - Long lines for airport bathrooms - The first bathroom in the terminal is always the most crowded one. Use the next one to skip the long waits and save precious time.

Flight Bathrooms - The best times to use the bathroom during a flight is right after the plane has leveled off and 15-20 minutes before landing.

Wifi Passwords - Get the WiFi password for many establishments by checking the comments section of FourSquare. When you're at the airport, add "?.jpg" to the end of any URL to get around the ludicrously expensive WiFi. Alternatively, you can sit right outside an airport club lounge: Wi-Fi signals often glide through the walls.

Boarding - This will prevent your from losing anything. If you have a child within 2 years, they allow you to get boarding priority after group 1.

Phone - Put your phone in airplane mode to save batteries and prevent it from roaming in a different country.

Foreign Currency - If you are arriving at your destination late, get some foreign currency beforehand. Most shops close early and you will somehow need to pay for your taxi to your hotel. Not all taxi's accept credit cards. Try to avoid the airports when exchanging currency as they tend to charge a processing fee for each currency.

US Customs - 1) Fill out the US customs form before the airplane lands. You do not want to fill out this form in the line up since it asks for flight and passport numbers. 2) Keep all your receipts but hide them. If they suspect your items may be fakes, they can confiscate the items. If you don't have a reciept, pull up the credit card purchase on your iPhone.

Pick up - Get picked up at the arrival terminals to avoid traffic.